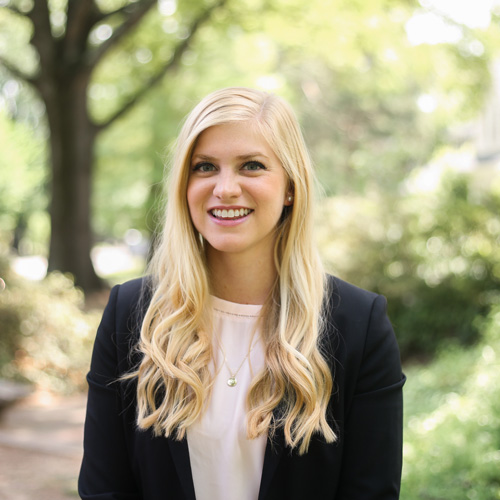 Savannah Best, Esq.
Staff Attorney, Immigration Law
Savannah serves as a Staff Attorney at JusticeMatters. Originally from Metro Atlanta, Savannah moved to North Carolina to attend the great Wake Forest University in 2011 and never left. After graduating with a B.A. in Politics and International Affairs, Savannah earned her J.D. from Duke University School of Law, the second-greatest school on earth. Savannah learned of JusticeMatters almost immediately upon moving to Durham, and first joined the team as a Summer Legal Fellow in 2016. After working as a civil litigator, Savannah rejoined JusticeMatters to practice humanitarian immigration law in 2019. Her two pet shrimp, Karen and Kāren, also joined the JusticeMatters team. Savannah and her husband, Sam, love to travel, explore Durham's unbeatable food scene, and venture to the Bull City's many dog-friendly sites and events with their beloved canine children, Paisley and Calvin.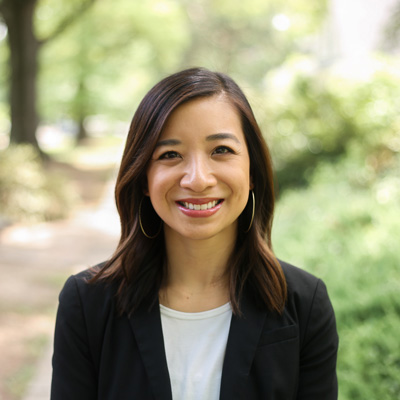 Cheryl Chew, Esq.
Senior Staff Attorney, Immigration Law Section Lead
Cheryl serves as Staff Attorney for JusticeMatters, specializing in humanitarian immigration law. Previously, Cheryl completed a legal fellowship with JusticeMatters and worked with the North Carolina Justice Center's Immigrant and Refugee Rights Project in Raleigh. Cheryl received her B.A. from Duke University and her J.D. from the University of North Carolina School of Law, serving as a volunteer with JusticeMatters and working in the Immigration and Human Rights Policy Clinic during law school. Cheryl and her husband live in Durham with their sweet and energetic dog, Charlie.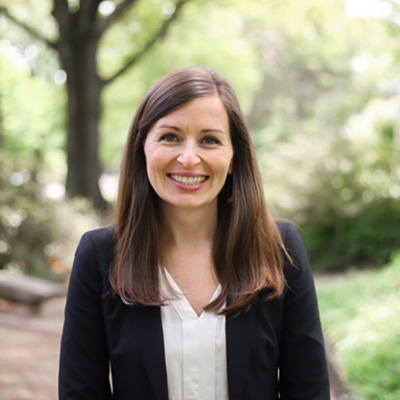 Libby Magee Coles, Esq.
Executive Director & Managing Attorney
Libby serves as Executive Director and Managing Attorney for JusticeMatters, which she founded in 2009 with the help of a talented team of legal professionals and community leaders. She specializes in the provision of trauma-informed humanitarian immigration services for survivors of human trafficking and other traumas. Libby provides leadership in statewide anti-trafficking efforts, serving as chairperson of the North Carolina Human Trafficking Commission by appointment of the Governor. Libby received her J.D. from Duke University School of Law. She has worked as a civil litigator with Parker Poe Adams & Bernstein in Raleigh, on the legislative staff of a U.S. Senator in Washington, D.C., and as a mentor and athletic instructor for at-risk youth. Libby and her husband Jeff have two children and live in Old North Durham, which puts them in delightfully close proximity to some of their favorite things – Durham Farmers' Market, their church (Christ Central), Cameron Indoor Stadium, the Tobacco Trail, and food trucks.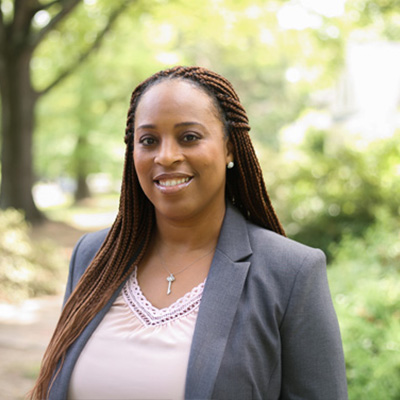 Santae M. Cooper
Case Specialist, Family Law
Santae is a Wesley College graduate with a Bachelor's of Science degree in Paralegal Studies and a graduate of Saint Leo University with a Master's Degree in Business Administration. She has over 18 years of experience working as a paralegal in various types of law. Santae and her husband Kris have two children, a daughter and son. Santae loves to spend her free time with her family watching or playing sports, watching movies, playing board games or reading a good book.
Nicole Daniels, Esq.
Staff Attorney, Immigration Law
Nicole was born and raised in Athens, Georgia. She is a two-time graduate of the University of North Carolina at Chapel Hill, receiving her BA in Communication Studies and Spanish in 2011 and JD in 2015. In the summers of 2013 and 2015 she spent six weeks in Rwanda and The Hague studying international law and human rights. There she developed a deep passion for human rights law and has continuously focused her efforts on anti-human trafficking work and community development. During the 2014-2015 academic year, Nicole completed a legal externship with JusticeMatters. Nicole returned to serve as Staff Attorney for JusticeMatters, focusing on anti-human trafficking through immigration and family law. Nicole lives in Durham and in her free time you can find her dancing, singing off-key, and enjoying the city of Durham which she has grown to love almost as much as Chapel Hill.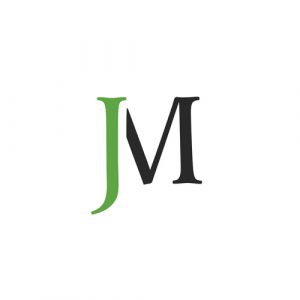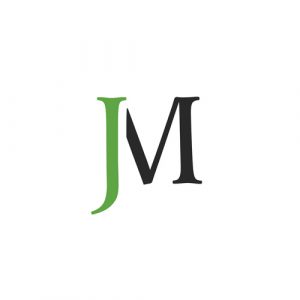 Chelsea DeMoss
Staff Attorney, Immigration Law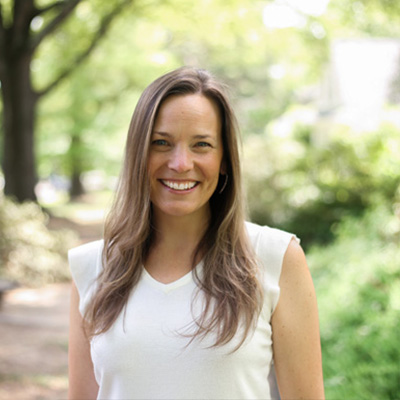 Betsy Divers
Training and Education Specialist & Language Access Coordinator
Born in Argentina to parents from Virginia and North Carolina, Betsy was raised speaking two languages and embracing life between cultures. She left Argentina to attend the University of Mary Washington in Fredericksburg, VA, where she obtained a B.S. in Psychology and Spanish Language and Literature. A move to North Carolina marked the beginning of her career in the field of Training and Instructional Design, which happily involved travel to many places, both domestic and abroad. Life in the U.S. really began for her when she moved to the Bull City, where she lives with her husband, Chris (also from Buenos Aires) and their canine wonder, Sienna. JusticeMatters is a space where the things that matter most to Betsy happen on a daily basis, and for that she is continually grateful.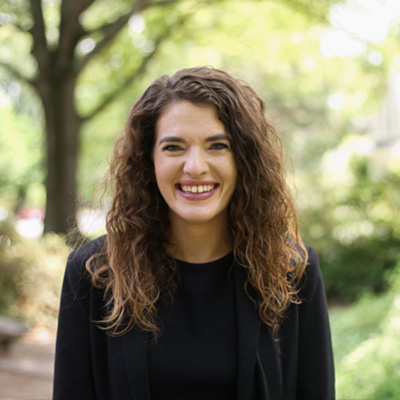 Charissa Gray, MSW, MPH
Chief Program Officer
Charissa serves as Director of Operations with JusticeMatters, specializing in trauma informed and holistic service provision, with experience working in rural, urban, and international settings with domestic and foreign-born children, youth, and adults. Charissa jokes that not only does UNC-CH have all of her loyalty, but also all of her money as she completed her BA in '08 and then returned to complete a MSW and a MPH in '14. She is committed to interdisciplinary service provision after working for innovative organizations including UNC Horizons and Lawndale Christian Health Center and participating in programs like the Transatlantic Consortium on Early Childhood Intervention in Sweden. Her desire to display Christ's love through prayerful action prompted her to complete a graduate internship with JusticeMatters and she was thrilled to join the staff in 2016. Charissa lives in Durham and spends her free time trying to decide on her favorite coffee shop, serving with her church, convincing Duke fans that UNC is superior, and exploring the Eno River whenever she is homesick for the little mountain town where she grew up.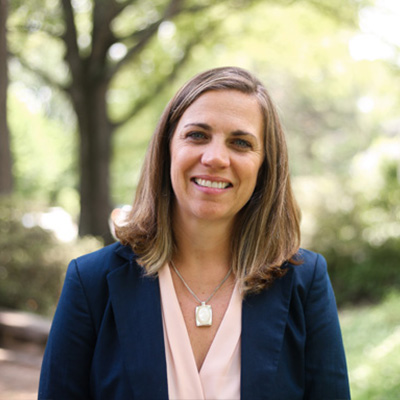 Jennifer Jordan
Case Specialist & Interpreter
Jenni serves as a Case Specialist as well as a Spanish interpreter with JusticeMatters in the Raleigh office. Having grown up in Barcelona, Spain, Jenni gained a love for the Spanish language as well as people of Latin cultures. Jenni has experience working with people of all ages and from all backgrounds. She was a teacher for eight years teaching several different subjects in grades ranging from pre-k through high school. She has served on several non-profit boards and has always had a heart for reaching people. Her desire to use her knowledge of the Spanish language and her love for people of other cultures led her to work the past seven years as a paralegal and interpreter for an immigration attorney in Raleigh. After volunteering with JusticeMatters for several years, Jenni joined the staff in 2018 to help launch the Raleigh office. Jenni loves the mission of JusticeMatters and enjoys using her knowledge of the Spanish language and her experience as a paralegal to help those who are in need. Jenni has served the Hispanic population for over eighteen years in many capacities, such as leading a women's Bible study, teaching English as a second language, advocating for them and supporting them in whatever way they need. Jenni and her husband Todd have three teenagers and enjoy spending their time at their children's sporting, playing games with family and friends and volunteering within their community and church.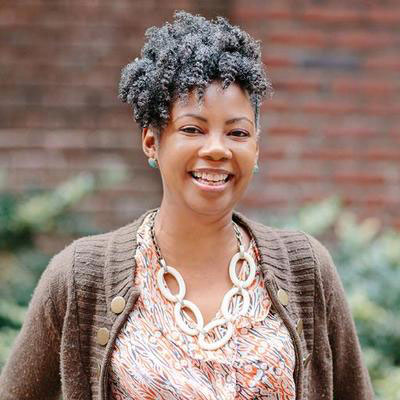 LaToya King
Chief Operating Officer
Christy A. Hamilton Malott, Esq.
Senior Staff Attorney, Family Law Section Lead
Christy serves as Senior Staff Attorney for JusticeMatters, specializing in family law. Christy is a certified Child Welfare Law Specialist. Christy also serves on the Durham Community Child Fatality Team and chairs the Durham Community Child Protection Team, both by appointment of the Board of County Commissioners. Christy was a member of the Durham Guardian ad Litem (GAL) Program, representing abused and neglected children, for over ten years in roles of both volunteer and attorney. She spent a year in private practice handling family law cases at Lewis & Anderson, PLLC. Christy has served as Secretary, Vice-President, and President of the 14th Judicial District and Durham County Bar Associations. She brings knowledge of the judicial and social service system as well as a passion for helping children and families. Christy grew up in Durham and graduated from Riverside High School ('97), Duke University ('01) and North Carolina Central School of Law ('05). Christy and her husband, Donnie, stay busy trying to keep up with their three children and two dogs!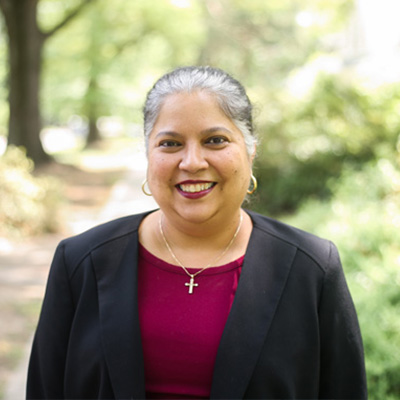 Ineavelle Middleton
Case Specialist, Immigration Law
A native of Puerto Rico, Ineavelle grew up in Brooklyn, NY and relished in the diversity offered by NYC. Upon graduating high school in NY and attending college in Indiana, Ineavelle decided to move to Greensboro, NC for a change of pace and then married her best friend from middle school, Lloyd Middleton. They have been happily married now for over 20 years and their family consists of two wonderful teenagers, Lloyd and Shelly, and a spoiled-rotten bull dog named Max (who all claim is Ineavelle's favorite).
Ineavelle worked as an Executive Assistant for various Fortune 500 companies. Feeling disheartened after multiple reorganizations and mergers, Ineavelle opened herself up to embarking on something new. It was by pure chance that she came across an opportunity that led her into the world of immigration law via Chapman Law Firm. Through client cases, Ineavelle learned about the injustices and difficulties that people coming to the U.S. for a better life were facing. Through immigration law, she discovered the career passion that she had been longing for. She credits Mr. Chapman for introducing her to the world that would eventually lead her to her current position as a Case Specialist with JusticeMatters.
Katie Moye, Esq.
Senior Staff Attorney, Family Law
Katie is Senior Staff Attorney in the Raleigh office of JusticeMatters, focusing on family law matters. Katie was born in New Orleans, raised in south Louisiana and received her undergraduate degree from Louisiana State University in Baton Rouge, LA, in 1991. She settled in North Carolina after graduating from the University of North Carolina-Chapel Hill School of Law in 1994. After brief stints as a county attorney handling child protective services cases and in a private firm in Charlotte, Katie entered private practice in Raleigh in 1997, advising and representing clients in all areas of family law. After volunteering with JusticeMatters, Katie joined the staff in 2018 upon the launch of our Raleigh office. Katie and her husband, Mark, have two (2) teenage children and enjoy spending their free time socializing with friends, serving in their church and volunteering in the Raleigh community.
Jeymi Ramirez
Donor Relations Specialist & Client Services Specialist
Jeymi serves as Office Administrator & Client Services Specialist at JusticeMatters. Jeymi graduated from East Carolina University with a Bachelor of Science in Public Health Studies with a concentration in community health. During her last year at ECU, Jeymi completed an internship with the Association of Mexicans in North Carolina where she focused her efforts on creating mental health programs for farmworkers in Eastern North Carolina. In addition, Jeymi has also worked on different areas such as advocacy, education, health and leadership development. Jeymi lives in Raleigh and in her free time you can find her trying new restaurants, watching movies, or learning to cook.
Karla Siu, MSW, LCSW
Behavioral Health Consultant
Karla Siu is a Licensed Clinical Social Worker with 18+ years of experience serving families and children recovering from trauma. Karla currently provides consultation to the North Carolina Farmworker Health Program and El Futuro, Inc. to implement bilingual video-counseling services in select primary care clinics in rural North Carolina. Formerly, Karla served as an outpatient therapist and El Futuro's Clinical Program Director for 11 years. Karla also worked in welfare reform, community mental health, research on biculturalism, and services to domestic violence offenders. In 2009, Karla co-authored an article in the Journal of Family Violence.
Landon Whitley
Marketplace Fellow
Landon serves as Marketplace Fellow working with the Chief Program Officer and Director of Finance and Development to support the mission of JusticeMatters. Landon believes strongly in both the commitment and engagement of the fundamental beliefs behind JusticeMatters' vision of support, protection, and restoration. Landon has worked as a Senior Legal Assistant for Hatley Law Office, as a youth ambassador to at-risk-teens in Northern Ireland, and as a coach, mentor, and volunteer teacher in surrounding High Schools in the Triangle area. Landon graduated with a Bachelor's of Arts from the University of North Carolina at Chapel Hill in 2019. Landon loves to travel and is on a quest to visit every country on the planet in his lifetime.
Jason R. Brege, Esq.
Partner, Smith Anderson LLP - Raleigh, NC
Heather Horton, CPA
CFO, NC Department of Commerce - Raleigh, NC
Andre Mann
Head of European Operations, Diversified Conveyors, Inc. - Raleigh, NC
Rhonda McNairy, CPA
Community Member - Raleigh, NC
Robin Muse, Esq.
Board Chair - Apex, NC
Mary Stonecypher, CPA
Manager, Dixon Hughes Goodman LLP
 - Charlotte, NC
Ashley Treible
Community Member - Chapel Hill, NC
Neal Winterhof
Private Investor - Durham, NC
Jeffrey ("Jeff") Wolfe, Esq.
Managing Attorney, Forrest Firm, P.C. - Winston-Salem, NC
Harriet Worley, Esq.
Community Member - Raleigh, NC